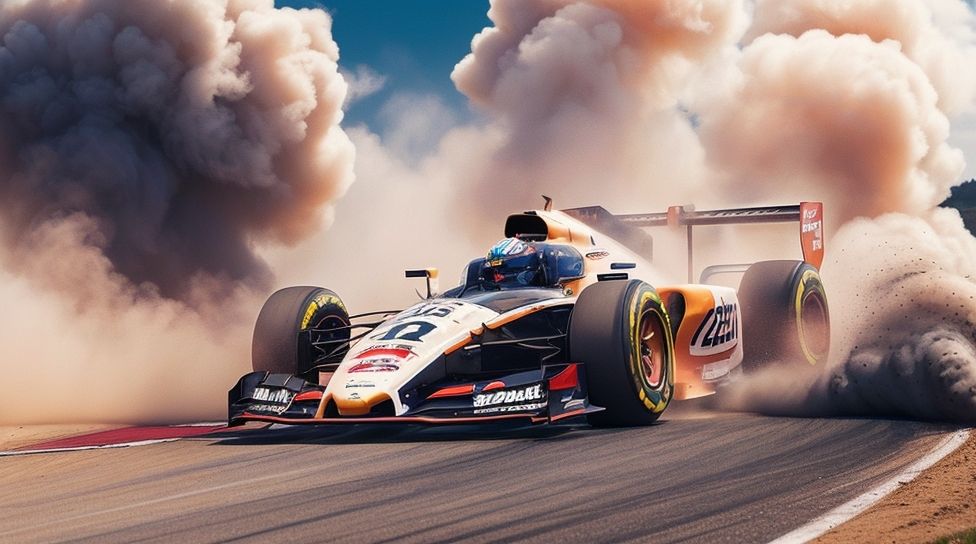 Motorsports, a thrilling and adrenaline-pumping world where speed and skill collide, has captivated the hearts of many.
For those looking to dive into this exhilarating realm, here are eight ways to start your journey. From karting and sim racing to attending racing schools and joining clubs, these avenues open doors to hone your driving prowess. With opportunities like sponsorship programs and youth initiatives available, aspiring racers can take advantage of various pathways.
Remember, determination and passion fuel success in this fast-paced arena. So buckle up, rev those engines, and let's explore the incredible world of motorsports together!
Ready to dive into the world of motorsports? Strap in, because understanding the different types of motorsports is like trying to pick your favorite flavor of ice cream at a buffet – there are just way too many options.
Understand the Different Types of Motorsports
Motorsports are a diverse universe, comprising various thrilling and adrenaline-pumping races. Different types of motorsports cater to different passions and preferences. Whether it's the precision of Formula 1, the ruggedness of rally racing, or the intensity of drag racing, each discipline offers unique challenges and opportunities for aspiring drivers.
Get acquainted with the exhilarating world of Formula 1, where speed and precision reign supreme. These cars are built to be aerodynamic masterpieces, reaching blistering speeds on tracks around the globe. The F1 circuit is home to legendary drivers like Lewis Hamilton and Sebastian Vettel, who showcase their skills in a battle of engineering excellence.
If off-road adventures ignite your passion, rally racing is the perfect choice. This challenging discipline demands exceptional driving skills as participants navigate treacherous terrains at breakneck speeds. From muddy forests to sandy deserts, rally racing tests both driver and machine to their limits.
For those seeking short yet thrilling bursts of excitement, drag racing is an unmatched experience. Accelerating from 0 to 60 mph in mere seconds, drag racers face off in explosive showdowns on straight-line tracks. The scorching sound and visual spectacle make this motor sport a crowd favorite.
Endurance racing embodies the ultimate test of both man and machine. Events such as Le Mans 24 Hours push drivers' stamina and determination as they race through day and night relentlessly. These races showcase not only speed but also strategy as teams manage tire changes, fuel stops, and driver swaps.
Motocross raises adrenaline levels with its high-flying jumps and gritty off-road action. This demanding sport combines athleticism with technical skill as riders navigate rough terrains aboard their dirt bikes. It's a breathtaking display of agility and bravery that keeps fans on their toes.
Dirt track racing puts drivers in control on oval dirt circuits as they slide through turns at astonishing speeds. This grassroots form of racing provides an affordable platform for aspiring drivers to showcase their skills. With intense battles and close finishes, dirt track racing captures the raw essence of motorsports.
Last but not least, touring car racing delivers intense wheel-to-wheel action on closed circuits. These modified production cars exhibit tremendous power, showcasing thrilling overtakes and nail-biting battles. Touring car series such as the British Touring Car Championship attract a passionate fanbase craving adrenaline-fueled competition.
Exploring the diverse world of motorsports is an exhilarating journey that offers something for everyone. From precision engineering to off-road adventures, each discipline presents unique challenges for those looking to start their motorsport careers. Choose your passion, buckle up, and dive into the high-octane world where speed meets skill.
Find the perfect motorsport for your skill level and risk tolerance because it's important to know if you're more of a speed demon or a danger enthusiast before strapping yourself into a race car.
Choose the Right Motorsport for You
Choosing the right motorsport for you can be a daunting task, as there are numerous options available. To make this decision easier, it is important to consider your interests, skills, and goals. Each type of motorsport offers unique challenges and opportunities for growth.
Motocross is an adrenaline-fueled sport that involves racing dirt bikes on off-road tracks. It requires excellent agility, balance, and bike control. If you enjoy the thrill of flying through the air and navigating challenging terrain, motocross may be the perfect choice for you.
On the other hand, if you prefer four-wheeled vehicles and high speeds, Formula 1 or NASCAR may be more appealing. Formula 1 is known for its precision driving skills and technical expertise. The races take place on paved circuits with sharp corners and long straightaways. NASCAR, on the other hand, focuses on oval tracks with close-quarters racing and intense battles for position.
For those who enjoy endurance racing and teamwork, sports car racing such as Le Mans or GT racing may be worth considering. These races require drivers to push their limits while maintaining consistency over long distances. Team strategy and pit stops play a crucial role in achieving success in these competitions.
If the idea of racing on two wheels excites you but motocross seems too extreme, road racing or superbike racing could be a better fit. Road racing takes place on public roads transformed into racetracks temporarily. It demands precision riding skills and mental focus as riders reach incredible speeds on open roads.
Drag racing is another popular choice that caters to those who love straight-line speed. This form of motorsport involves accelerative bursts over a short distance from a standing start. It requires powerful machines and quick reflexes to win races within a matter of seconds.
Off-road racing offers a different challenge altogether with races conducted in rugged terrains like desert or forest trails. Baja-style races include multiple classes of vehicles battling through challenging off-road courses.
Lastly, if you prefer a more sustainable and environmentally friendly form of motorsport, electric car racing such as Formula E could be a suitable option. These races showcase the performance of electric vehicles while promoting sustainable mobility.
Karting competitions are like the wild west of motorsports, except instead of horses, you're racing around in tiny death traps.
Start with Local Karting Competitions
Motorsports can be an exciting and challenging field to enter, and one great way to start is by getting involved in local karting competitions. These events provide a valuable opportunity for beginners to showcase their skills, learn from more experienced racers, and get a taste of the competitive racing environment.
Build a solid foundation: Local karting competitions allow aspiring racers to gain practical experience in motorsports. By honing their driving skills and learning about race strategies, participants can develop a strong foundation for future endeavors.
Low entry barrier: Karting competitions offer a relatively low entry barrier compared to other forms of motorsports. The cost of participation is often affordable, making it accessible for individuals who are just starting out.
Networking opportunities: Engaging in local karting competitions allows aspiring racers to meet like-minded individuals and build connections within the motorsports community. These networks can prove invaluable when seeking further opportunities in the industry.
Gaining exposure: Participating in karting competitions provides a platform for newcomers to gain exposure and catch the attention of talent scouts or sponsors who may be present at these events. This exposure could potentially open doors to higher levels of competition.
Furthermore, local karting competitions promote sportsmanship, discipline, and competitiveness among participants. Racers learn how to handle both success and failure graciously while striving for improvement. So if you're considering venturing into the world of motorsports, starting with local karting competitions is an excellent way to kickstart your journey towards becoming a professional racer.
If you want to learn how to go fast without the fear of getting a speeding ticket, joining a racing school is the perfect legal loophole.
Join a Racing School or Program
Joining a racing school or program is a fantastic way to kickstart your journey in motorsports. It provides you with the necessary skills, knowledge, and experience to excel in the exciting world of racing. Here are six points to consider when joining a racing school or program:
Learn from experts: Racing schools are filled with experienced instructors who have a wealth of knowledge in the field. They will teach you everything you need to know about driving techniques, safety protocols, and race strategies.
Gain hands-on experience: Racing programs often offer practical training sessions where you can get behind the wheel and apply what you've learned. This hands-on experience is invaluable for honing your driving skills.
Access to professional equipment: Racing schools provide access to state-of-the-art racing equipment that may be too expensive for individual racers to afford. This gives you an opportunity to practice with high-quality gear.
Networking opportunities: Joining a racing school allows you to connect with fellow enthusiasts and professionals in the industry. Building these connections can open doors for mentorship, sponsorship, and future collaborations.
Develop a competitive edge: Racing programs focus on enhancing your competitive spirit and teaching you how to thrive under pressure. You'll learn how to analyze race data, strategize effectively, and make split-second decisions on the track.
Safety first: One of the essential aspects of any racing school or program is emphasizing safety. You'll be taught important safety measures like proper helmet usage, understanding flags, and maintaining control on various terrains.
In addition to these benefits, some racing schools also offer scholarship programs for aspiring racers who demonstrate exceptional skill and passion. These unique opportunities can provide financial assistance as well as recognition within the racing community. So if you're passionate about motorsports and ready to take your skills to the next level, joining a racing school or program is definitely worth considering!
Get ready to put the pedal to the metal and your pride to the side as you train and practice your way to becoming a motorsports maestro.
Build Your Skills through Practice and Training
To excel in the world of motorsports, honing your skills through practice and training is vital. By immersing yourself in focused and disciplined learning, you can improve your racing abilities and increase your chances of success on the track.
Begin with basic driving techniques: Start by mastering fundamental skills such as braking, accelerating, and cornering. This lays a solid foundation for more advanced maneuvers later on.
Seek professional coaching: Enlist the help of experienced motorsports trainers who can provide valuable insights and guidance tailored to your specific needs. They can identify areas for improvement and teach you advanced techniques to enhance your performance.
Join karting championships: Karting is an accessible entry point into competitive racing. Participating in karting championships allows you to practice essential racing skills, understand track dynamics, and gain valuable racecraft experience.
Attend racing schools: Enroll in specialized racing schools that offer comprehensive training programs. These schools focus on various aspects of motorsports, including vehicle control, strategy development, mental preparation, and physical fitness.
Network with industry professionals: Establish connections within the motorsports community by attending events and joining clubs or organizations. Networking opens doors to opportunities such as sponsorships, team tryouts, or mentorship from seasoned racers.
Furthermore, it is essential to stay dedicated and motivated throughout the journey. Building your skills takes time and effort but with perseverance and continued practice, success in motorsports is within reach.
Networking with industry professionals is like drafting in a race – you get to ride their coat tails until you're ready to make your move.
Network and Connect with Industry Professionals
Building a strong network is crucial in the world of motorsports. By connecting with industry professionals, you can gain valuable insights, establish important relationships, and open doors for opportunities. Here are eight ways to network and connect with key individuals in the motorsports industry:
Attend motorsport events: Make it a priority to attend races, trade shows, and conferences where industry professionals gather. These events provide excellent opportunities to meet people who share your passion for motorsports.
Join professional organizations: Become a member of reputable organizations such as the Sports Car Club of America or the National Hot Rod Association. Being part of these groups allows you to connect with like-minded individuals and stay updated on industry news.
Utilize social media: Leverage platforms like LinkedIn, Twitter, and Facebook to connect with professionals in the motorsports community. Engage in discussions, share relevant content, and participate in online groups or forums.
Reach out directly: Don't hesitate to approach industry professionals for advice or mentorship. Send personalized messages expressing your admiration for their work and requesting an opportunity to connect.
Volunteer at events: Offer your assistance at races or other motorsport events. Volunteering not only allows you to gain hands-on experience but also puts you in direct contact with influential individuals within the industry.
Attend workshops and seminars: Take advantage of educational programs focused on different aspects of motorsports. These gatherings attract experts who can enlighten you about various career paths and provide valuable networking opportunities.
By implementing these strategies, you can proactively expand your professional network within the motorsports industry.
Remember that networking is an ongoing process – continue seeking ways to foster connections even after establishing initial relationships. Stay engaged through social gatherings, maintain regular communication with your contacts, join online communities dedicated to motorsports enthusiasts, and be proactive in attending industry-related events. By actively networking and connecting with industry professionals, you increase your chances of finding success and advancement in the exciting world of motorsports.
Want to drive a race car? Gonna need more than just daddy's credit card.
Seek Sponsorships and Funding Opportunities
Seeking sponsorships and funding opportunities is crucial for anyone looking to get started in the world of motorsports. Without financial support, it can be challenging for aspiring racers to cover the high costs associated with this competitive industry. However, there are several strategies that can help individuals secure the necessary funding to pursue their passion for motorsports.
Develop a Professional Proposal: Creating a comprehensive and well-presented proposal is essential when approaching potential sponsors. Highlight your achievements, goals, and why you would be a valuable brand ambassador.
Identify Target Sponsors: Research companies and organizations that have a vested interest in motorsports or align with your personal brand. These sponsors are more likely to support your racing ambitions.
Network with Industry Insiders: Building relationships within the motorsports community can open doors to sponsorship opportunities. Attend events, join relevant organizations, and connect with influential individuals who may be able to connect you with potential sponsors.
Leverage Social Media: Establishing a strong online presence can attract sponsors by showcasing your skills, personality, and dedication to the sport. Engage with followers, create engaging content, and use relevant hashtags to increase visibility.
To stand out from the competition seeking sponsorships and funding opportunities, it's important to think outside the box. Consider hosting charity events or partnering with local businesses to raise funds while also giving back to your community.
In summary, seeking sponsorships and funding opportunities requires proactive efforts such as creating professional proposals, targeting suitable sponsors, networking within the industry, leveraging social media platforms creatively, and exploring unique fundraising ideas. With determination and strategic planning, it is possible for aspiring racers to secure the financial backing needed to chase their dreams in motorsports.
Setting realistic goals in motorsports is like trying to find a unicorn in a demolition derby – it's a long shot, but hey, stranger things have happened.
Set Realistic Goals and Track Your Progress
Setting realistic goals and tracking your progress is essential in the world of motorsports. It allows you to stay focused, motivated, and evaluate your performance effectively. Here are four key points to consider:
Define your objectives: Begin by clearly defining what you want to achieve in motorsports. Set specific and measurable goals that align with your skills, resources, and ambitions.
Break it down: Once you have set your primary goal, break it down into smaller milestones or targets. This step helps you create a roadmap and enables you to track your progress more efficiently.
Monitor and measure: Regularly monitor and measure your progress towards each milestone. Keep detailed records of lap times, race results, and other metrics relevant to your performance. This information will provide insights into areas where improvements are needed.
Adjust as necessary: Be flexible in adjusting your goals based on the feedback from monitoring and measuring progress. Take into account external factors such as competition, resources, and changing circumstances as you refine your objectives.
To enhance your journey in motorsports further:
Consider seeking professional guidance from experienced individuals or organizations within the industry.
Engage with like-minded individuals through networking events or online communities.
Stay updated on the latest technological advancements and industry trends.
Strap on your helmet and get ready for the checkered flag, because these eight ways to start in motorsports will have you burning rubber and laughing all the way to the finish line!
Conclusion
To encapsulate, starting a career in motorsports requires determination, skill, and a willingness to learn. It is an industry that demands passion and dedication, but the rewards are immense. Here are some key points to consider when embarking on this thrilling journey.
It is crucial to choose the right discipline within motorsports that aligns with your interests and strengths. Whether it's Formula 1, rally racing, or endurance events, finding your niche will allow you to focus your efforts and excel in your chosen field.
Gaining practical experience through internships or apprenticeships is invaluable. By working alongside professionals in the industry, you can gain firsthand knowledge of the intricacies of motorsports and develop necessary skills that will set you apart from competitors.
Networking plays a pivotal role in any career endeavor, and the world of motorsports is no exception. Building relationships with key individuals such as team owners, drivers, and sponsors can open doors for opportunities like sponsorships or even securing a spot on a team.
Additionally, continuous learning is vital for success in this ever-evolving industry. Stay updated on new technologies, rules, and regulations by attending conferences, workshops, and seminars. This knowledge will not only enhance your expertise but also demonstrate your commitment to growth and improvement.
Moreover, developing a strong physical fitness routine is essential for aspiring motorsport professionals. The physical demands of racing require athletes to be in peak condition – both mentally and physically – to endure long hours behind the wheel at high speeds.
Furthermore, acquiring proper licensing and certifications cannot be emphasized enough. Make sure to obtain all necessary licenses required by the governing bodies of your chosen discipline. These credentials will validate your qualifications and prove your competence within the industry.
Frequently Asked Questions
FAQs for 8 Ways to Start in Motorsports:
Q: What are the different ways to start in motorsports?
A: There are several ways to start in motorsports, including karting, joining a racing school, participating in autocross events, becoming a track marshal, volunteering at races, and pursuing a career in motorsport engineering or journalism.
Q: Is it necessary to have prior experience to start in motorsports?
A: No, prior experience is not always necessary to start in motorsports. Beginner-friendly options like karting and racing schools provide the opportunity to learn and develop skills from scratch.
Q: What is the typical cost involved in starting motorsports?
A: The cost of starting in motorsports can vary depending on the chosen path. Karting can be relatively affordable, while pursuing a professional racing career can involve significant financial investment. It is advisable to research and plan accordingly based on personal budget and goals.
Q: Are there any age restrictions to start in motorsports?
A: Age restrictions vary across different motorsport disciplines and organizations. While some forms of racing have minimum age requirements, others offer junior divisions for younger participants. It is important to check the specific regulations of the chosen discipline or organization.
Q: Can I start in motorsports as a hobby instead of a professional career?
A: Absolutely! Many people participate in motorsports as a hobby rather than pursuing it professionally. It offers a thrilling and rewarding experience for individuals who have a passion for racing but may not have aspirations for a career in motorsports.
Q: How can I find motorsport events or organizations in my area?
A: To find motorsport events or organizations in your area, you can search online directories, visit motorsport websites, join motorsport enthusiast forums, or connect with local racing communities on social media platforms.