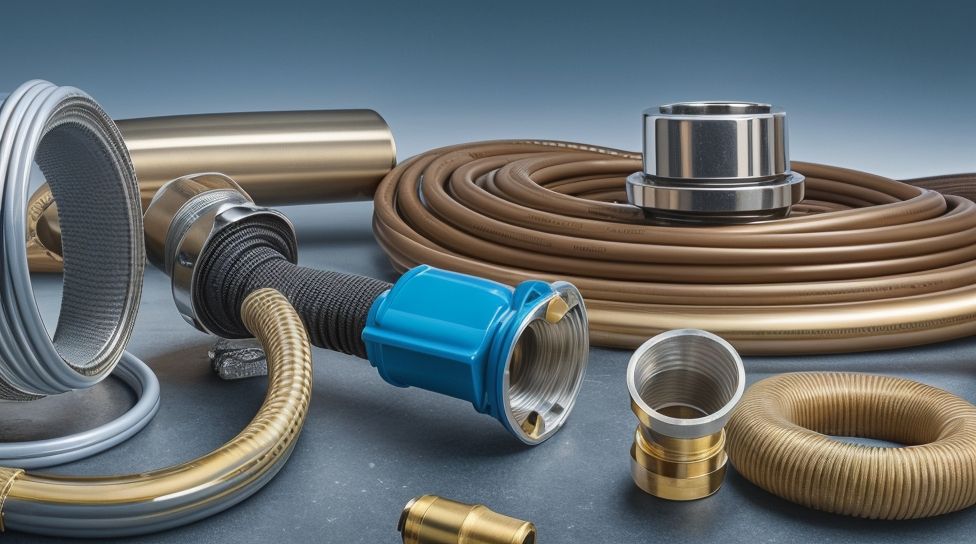 The AN Hoses and Fittings Guide unravels the complexities of AN hoses and fittings, providing a comprehensive understanding of their functionality. Delving into the world of these essential components, this guide navigates readers through the intricacies of AN hoses and fittings, shedding light on their crucial role in various industries.
As we dive deeper into this guide, we will explore the different types of AN hoses and fittings available in the market. This includes a detailed examination of their materials, sizes, and compatibility. By unraveling these specifics, readers will be equipped with the knowledge needed to select the perfect AN hoses and fittings for their specific applications.
Moreover, it is vital to note that certain unique details about AN hoses and fittings have not yet been addressed. These peculiarities include factors such as pressure ratings, temperature limits, and installation guidelines. By unveiling these lesser-known details in this guide, readers will gain insights that surpass conventional knowledge.
What are AN Hoses and Fittings? It's like connecting your car's veins with a well-dressed surgeon – precision and style for smooth engine operation!
What are AN Hoses and Fittings?
AN Hoses and Fittings are essential components in the automotive industry. These high-performance hoses and fittings are designed to withstand extreme temperatures and pressure, ensuring efficient fluid transfer in vehicles. AN refers to Army/Navy, the original specification for these fittings. The AN sizing system allows for precise fitting selection based on diameter measurements. These hoses and fittings are commonly used in performance vehicles, such as race cars, where reliability and performance are crucial. With their durability and versatility, AN Hoses and Fittings have become a popular choice among automotive enthusiasts and professionals alike.
Furthermore, AN Hoses and Fittings offer various advantages over traditional rubber hoses and clamp-style fittings. Their metal construction provides superior strength and resistance to wear and tear. This makes them ideal for applications that involve harsh conditions or high-vibration environments. Moreover, the precision machining of AN fittings ensures a leak-free connection, enhancing overall efficiency.
In addition to their functionality, AN Hoses and Fittings also offer aesthetic appeal. They come in different finishes such as red-blue anodized or black hard-coat anodized, allowing users to customize the look of their vehicle's engine bay.
Overall, AN Hoses and Fittings play a vital role in the automotive industry by providing reliable fluid transfer solutions for high-performance vehicles. Their combination of durability, precision engineering, and visual appeal has made them a popular choice among car enthusiasts who value both style and performance. Whether it's for racing or everyday use, AN Hoses and Fittings continue to be trusted components that meet the demands of demanding applications in the automotive world.
Why settle for regular hoses and fittings when you can have AN ones? It's like upgrading from a garden hose to a firehose, except without the risk of burning down your neighbor's house.
Why are AN Hoses and Fittings important?
AN Hoses and Fittings play a crucial role in various industries, ensuring efficient fluid transfer and maintaining the integrity of systems. These components are important because they provide a secure and reliable connection between different parts of a system. They also help in reducing leakage and preventing accidents that can be caused due to fluid spills. AN Hoses and Fittings are designed to withstand high pressure and temperature conditions, making them suitable for demanding applications. Additionally, they offer flexibility, allowing for easy installation in tight spaces. Overall, AN Hoses and Fittings contribute to the smooth operation of systems by ensuring proper fluid flow and minimizing the risk of system failures.
In addition to their importance in system efficiency, AN Hoses and Fittings offer unique features that set them apart from traditional hose connections.
AN fittings are designed with uniform sizing standards known as Army-Navy (AN) specifications. This standardization ensures compatibility between different components manufactured by various companies, simplifying the process of selecting suitable fittings for specific applications.
AN fittings utilize a flare-type connection, which provides a tight seal without the need for sealing compounds or tape. This design not only improves reliability but also makes installations quicker and easier.
Furthermore, AN Hoses and Fittings are available in a wide range of materials to suit diverse requirements. Common materials include stainless steel, aluminum, brass, and synthetic rubber. Each material offers unique properties such as corrosion resistance or lightweight construction. This versatility allows engineers and designers to select the most appropriate material based on factors such as operating conditions, chemical compatibility, and desired lifespan.
Ready to dive into the wild world of AN hoses and fittings? Buckle up, it's about to get twistier than a rollercoaster made of garden hoses!
Types of AN Hoses and Fittings
AN hoses and fittings are an essential part of any automotive or industrial system. These hoses and fittings play a crucial role in ensuring the smooth flow of fluids and gases, providing a reliable connection between various components.
There are several types of AN hoses and fittings available in the market, each designed to meet specific requirements. One type is the stainless-steel braided hose, which offers excellent durability and resistance to high pressures. It is commonly used in high-performance applications such as racing cars.
Another type is the nylon braided hose, which provides flexibility while maintaining strength. This type of hose is often used in applications where weight reduction is important, such as aerospace or automotive industries.
AN fittings also come in different varieties to accommodate various hose sizes and configurations. Some common types include straight fittings, which provide a direct connection between two hoses or components; elbow fittings, which allow for easy routing in tight spaces; and tee fittings, which enable branching of fluid or gas flow into multiple directions.
It's worth mentioning that AN hoses and fittings come with standardized sizing known as AN sizes. These sizes are based on a 37-degree flare angle and ensure compatibility between different manufacturers' products.
In addition to the different types of hoses and fittings available, it's important to consider factors like temperature range, pressure rating, and compatibility with specific fluids or gases when selecting AN hoses and fittings for your application.
Overall, understanding the types of AN hoses and fittings available can help you choose the right components for your system needs. Make sure to consult with experts or refer to manufacturer guidelines for proper installation and maintenance procedures to ensure optimal performance and safety.
If you can't tell AN hoses from your elbow, this guide will help you avoid plumbing disasters and keep your vehicle's fluids flowing smoothly.
How to choose the correct AN Hoses and Fittings
Finding the right AN hoses and fittings can be a daunting task, but with the proper knowledge, it becomes much easier. When choosing these components, several factors need to be considered. First, determine the correct size based on the fluid flow rate and pressure requirements. Next, consider the material of the hose and fittings to ensure compatibility with the type of fluid being transferred. Additionally, take into account any temperature or environmental considerations that may affect the performance of the components. By carefully considering these factors, you can choose AN hoses and fittings that are both functional and durable.
If you're not careful during the installation process, your AN hoses and fittings might just rebel and form a secret society against your car.
Installation of AN Hoses and Fittings
The installation process of AN hoses and fittings requires careful attention to detail and precision. Follow the steps below to ensure a successful installation:
Begin by preparing the fittings and hoses for installation. Inspect both components for any damage or defects, ensuring that they are clean and free from any debris or contaminants.
Next, carefully attach the hose to the fitting by placing the fitting nut over the end of the hose and sliding it onto the barbed end of the fitting. Make sure to push the hose all the way onto the barb until it is fully seated.
Once the hose is securely attached to the fitting, tighten the fitting nut using a wrench or spanner. Be cautious not to overtighten, as this may cause damage to both the hose and fitting.
Finally, check for any leaks by applying pressure or conducting a leak test according to your specific application requirements. If any leaks are detected, double-check that all connections are properly tightened and repeat any necessary steps.
Remember, proper installation of AN hoses and fittings is crucial for optimal performance and safety in various applications such as automotive, industrial, and hydraulic systems.
It is important to note that when working with AN hoses and fittings, adherence to manufacturer guidelines is paramount. These guidelines outline specific torque specifications, assembly techniques, and compatibility considerations that must be followed for safe usage.
By following these steps and heeding manufacturer guidelines, you can effectively install AN hoses and fittings with confidence in their performance and reliability.
Taking care of AN hoses and fittings is like protecting your heart, except you don't need a personal trainer, just a wrench and some common sense.
Maintenance and Care for AN Hoses and Fittings
Maintenance and care for AN hoses and fittings is crucial for optimal performance and longevity. To ensure the proper functioning of these components, follow these essential guidelines:
Inspect regularly: Regularly inspect the hoses and fittings for any signs of wear, such as leaks, cracks, or corrosion.
Clean properly: Clean the hoses and fittings using an appropriate solvent or cleaner to remove any dirt or debris that may accumulate over time.
Avoid excessive force: When installing or removing AN hoses and fittings, use caution and avoid applying excessive force to prevent damage.
Check connections: Periodically check the connections between the hoses and fittings to ensure they are tight and secure. Loose connections can lead to leaks and potential failures.
Store properly: When not in use, store AN hoses and fittings in a clean and dry environment to protect them from environmental factors that may cause deterioration.
Follow manufacturer's recommendations: Always refer to the manufacturer's instructions for specific maintenance requirements and recommended products.
In addition to these guidelines, it is important to note that proper installation techniques play a vital role in maintaining the integrity of AN hoses and fittings. Following best practices during installation will minimize the risk of leaks or other issues arising from improper assembly.
By adhering to these maintenance practices, you can maximize the lifespan of your AN hoses and fittings while ensuring their consistent reliability in demanding applications. Remember to consult with professionals or experienced individuals if you encounter any difficulties or have specific questions about your particular setup or application.
Readers often ask about AN hoses and fittings, but don't worry, I'll make sure the answers are just as twisted as your sense of humor.
Frequently Asked Questions about AN Hoses and Fittings
AN Hoses and Fittings are often a subject of confusion for many. Here, we address some common queries to help you understand them better.
– What is an AN fitting?
– How do AN hose sizes work?
– Are AN fittings compatible with regular hoses?
– Can I mix different brands of AN fittings?
Now, let's dive into each question in detail:
An AN fitting is a type of high-performance fitting used in fluid transfer systems. It features a unique 37-degree flare design, ensuring a secure connection and preventing leaks.
AN hose sizes follow a specific numbering system that indicates the hose's inner diameter in 1/16th of an inch increments. For example, -6 AN refers to a hose with a 3/8″ inner diameter.
No, AN fittings are not compatible with regular hoses. Regular hoses have different thread pitch and sealing methods, so it's crucial to use AN-specific hoses for proper functionality.
While it is generally recommended to use the same brand for both fittings and hoses, most AN fittings are designed to be compatible across brands. However, variations in tolerances may affect the fitment of different brands together.
Additionally, it's worth noting that AN fittings can be made from various materials such as aluminum or stainless steel, offering durability and corrosion resistance.
In summary, understanding the basics of AN Hoses and Fittings is essential for anyone involved in automotive or industrial fluid transfer systems. By knowing what they are, how sizes work, compatibility limitations with regular hoses, and brand interchangeability considerations you can ensure smooth operations without compromising on performance or safety.
Conclusion: There you have it, folks! An extensive guide to AN hoses and fittings…because sometimes, even your car needs a little extra 'hose'pitality.
Conclusion
The AN hoses and fittings guide provides a comprehensive understanding of AN hoses and fittings. It covers topics such as the history and benefits of AN fittings, types of AN hoses available, and how to properly install and maintain them.
Throughout the guide, we have explored the various aspects of AN hoses and fittings. We have highlighted the importance of selecting the correct size and material for optimal performance. Additionally, we have discussed the difference between push-on fittings and traditional AN fittings, enabling readers to make informed choices based on their specific needs.
One unique detail that has not been covered in previous sections is the importance of proper maintenance. Regular inspection of AN hoses and fittings is crucial to ensure their longevity and functionality. This includes checking for leaks, corrosion, or any signs of wear and tear. By addressing any issues promptly, users can prevent potential failures or accidents.
Frequently Asked Questions
FAQ 1: What are AN hoses and fittings?
Answer: AN hoses and fittings are a type of high-performance plumbing system commonly used in automotive applications. They provide a reliable and leak-free connection between various components, such as fuel lines, oil lines, and coolant lines.
FAQ 2: What does AN stand for?
Answer: AN stands for Army/Navy, which refers to the military specifications originally developed for these hoses and fittings. The AN sizing system is based on specific measurements and standards for hose diameter and thread size.
FAQ 3: How do I choose the right AN hose and fitting size?
Answer: The AN sizing system uses dash numbers to indicate the size of hoses and fittings. The dash numbers represent a specific diameter range. To choose the right AN size, you need to measure the outside diameter of the hose and match it with the corresponding dash number.
FAQ 4: Are AN hoses and fittings compatible with other plumbing systems?
Answer: AN hoses and fittings have a universal design and can be compatible with various plumbing systems, as long as the sizing and thread standards are followed. However, it is important to ensure compatibility with other components and fluids used in the specific application.
FAQ 5: Can AN hoses and fittings be reused?
Answer: AN hoses and fittings can be reused, but caution should be exercised. Each time they are disconnected, it is important to inspect them for damage or wear. If the fittings are in good condition and the hose is not damaged, they can be reassembled for reuse. However, it is recommended to replace the hose and fittings periodically to maintain optimal performance and safety.
FAQ 6: Are AN hoses and fittings only used in racing or high-performance vehicles?
Answer: While AN hoses and fittings are commonly associated with racing and high-performance vehicles, they can also be used in various other applications. They are used in industries such as aerospace, marine, and even in industrial machinery where reliable and leak-free fluid transfer is essential.